(For what led to my apology, please read part 1 of the blog here)
I wanted to be sure my parents knew how sorry I was, and that I realized how mean I'd been over the years. So one day a few years ago, I apologized to them in tears for how mean I'd been.
"Mom and Dad, I am so sorry for how I pushed you away and how mean I've acted over the years."
Puzzled looks. "What are you talking about?"
I tried to explain, giving a few specific examples.
"Well, ok, there may have been a few times, but we never took it as you being mean – you're not a mean person. We just figured you didn't want to talk or were going through something. Didn't change what we thought of you or the way we love you!"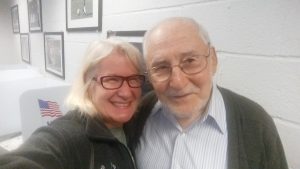 They didn't let the walls keep them out. Didn't get deterred when I pushed them away. Life as usual, kept loving me and reaching out, and being there. Looked beyond my behavior and loved me right where I was.
Love bears up under anything and everything that comes, is ever ready to believe the best of every person, its hopes are fadeless under all circumstances, and it endures everything [without weakening].
(1 Corinthians 13:7, AMPC)
My parents faithfully lived this verse out with all their children, and now grands and great-grands, day after day and year after year. Even though I couldn't fully receive it until, I know their consistent love played a major role in melting the icy cold walls of my heart. Thank God (literally!) I made the time to tell my Dad how much I loved him and specific things I admired about him before he went home to Jesus last year. And Mom and I seem to grow closer every day.
In no way am I perfect in keeping down the walls. They still jump up from time to time and I act out in a mean way. But by the grace of God it's no longer the place where I live.
Today is a bittersweet day for our family as we celebrate our first Father's Day since Dad went home to Jesus. It's sad because we miss him so much, but joyful because we can look around the table and see him in all of us. And we have sweet memories (and a boatload of stories!) to treasure. I am so thankful for Dad, and for my heavenly Father who blessed me with the gift of such loving and faithful parents.
Happy Father's Day to my awesome heavenly Father. And Happy Father's Day to you too, Daddio. I miss you! Love, Mario
Above all things have intense and unfailing love for one another, for love covers a multitude of sins [forgives and disregards the offenses of others].
(1 Peter 4:8, AMPC)